What is Zendesk Explore ?
Zendesk Explore is an analytics and reporting solution that assists you in analyzing, comprehending, and sharing your business data. It has numerous built-in reports to assess strengths and weaknesses as well as features for creating custom reports tailored to meet individual requirements.
Explore offers pre-built dashboards to make data visualization and chart creation a breeze. Use them for monitoring support metrics, agents, and more; alternatively, you can build your own customized dashboards using widgets included in Explore.
Additionally, you have complete control over how data is displayed on a dashboard by adding as many widgets as desired. Furthermore, you have the option of using different templates for each dashboard created.
Zendesk Connector makes data exporting to Power BI a snap with an out-of-the-box content pack available. This will give you quick and efficient access to Zendesk data.
You can select to include all ticket updates, those within a specified time period or those containing changes to specific fields. For instance, you could set up a report that tracks first reply times by excluding tickets whose status has been changed from Pending to Solved.
By tracking ticket solve rates over time, you can determine how many were resolved. Furthermore, agents may spend more effort solving tickets than submitting them.
Can Explore improve my relationship with my clients ?
When a company wants to nurture client relationships and deliver premium service at scale, it needs a customer experience platform that can manage multiple channels of engagement. Today's customer expects organizations to engage with them through their preferred methods, providing an exceptional experience across all touchpoints.
Zendesk provides a suite of tools to help customer support teams stay ahead of these demands. It centralizes client contacts, encourages team agility and allows customers to interact with you via the channel they prefer. Plus, Zendesk Guide compiles frequently asked questions, product features and customer requests into an intelligent knowledge base that equips your agents with valuable information.
Zendesk Connect's unification of customer data from all your support tools and any third-party source allows businesses to offer proactive and personalised messages, connecting historical information with individual customer activities.
Zendesk provides customer support with automation and organizational tools, such as triggers that help agents optimize their workflows or automate ticket assignment and closing. Furthermore, their list organization system makes it simple to create new lists with custom fields and apply filters for improved support management.
Recently, the company redesigned its brand and expanded its product family, with each item symbolizing a connection between two simple shapes. These symbols convey that all products form part of an integrated whole that improves customer relationships through deeper analytics and customer intelligence.
Which Zendesk plans ?
Zendesk provides five plans, depending on your business needs. Their Support Team plan is perfect for small businesses while Support Professional and Enterprise are ideal options if you want to expand your operation.
Zendesk also provides customers with a range of add-ons to customize their system even further. These include an extensive knowledge base, customer engagement and sales tools, as well as a bot tool which can be utilized for personalized support targeting specific customers.
Zendesk plans are priced according to the number of agents you have, and each provides a range of features designed to help manage your business. The main plan, Support, includes 24/5 live chat, phone, and email support from the company's team.
Additionally, Zendesk Professional plans offer a great value with an array of features at an unbeatable price point. This includes email & social channels, essentials card, interaction history, predefined business rules dashboards & reporting (which can be enhanced using Zendesk Explore), CSAT surveys & multilingual content - all available at no additional charge!
Zendesk may be more expensive than other support solutions, but they provide a solid option for small to medium businesses looking to scale. Plus, they provide a free trial so you can test out their features before making your final decision.
Zendesk's native customer analytics platform, Explore, allows you to view and analyze key business metrics so that you can identify strengths and weaknesses. Furthermore, you can customize your reports using tools such as custom fields and charts.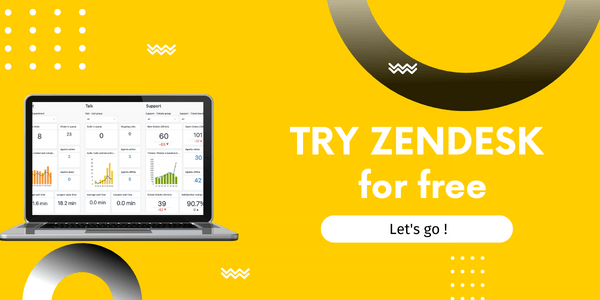 What are the functions of Explore ?
Zendesk's help desk system collects a wealth of customer data that can be leveraged to enhance the customer service experience. This information can be analyzed through built-in reports or other analytical tools available within Zendesk itself.
It is essential to have a tool that can monitor data across all channels your customers use to contact you. This provides insight into their experiences with your brand and the performance of your team members.
Explore offers a selection of pre-built dashboards to give you an insightful view into your business and help you make informed decisions for your company. Plus, these dashboards can be customized according to specific needs so they fit perfectly within the framework of Explore's offering.
Create a Knowledge Base dashboard that displays data about article views and votes, locales, and more. Filter reports according to time, brand, channel, user role and language for more precise reporting.
Additionally, Explore has some reports that are automatically updated according to a schedule. These updates take place at midnight for Explore Lite and hourly for Professional and Enterprise versions.
Zendesk not only provides a range of support features, but it also integrates with third-party applications to boost customer engagements and boost productivity and revenue. These range from automatic reminders and time tracking, E-commerce & CRM, Analytics & reporting, Survey & Feedback, Chat & Collaborations and more - all designed to make working with Zendesk easier!
How do I personnaliz my boards ?
All Explore versions, regardless of role, offer pre-built dashboards to help you better comprehend Zendesk business data. These visual representations present your info in a clear and accessible manner and can serve as templates for creating custom inquiries and dashboards.
For example, a pre-built report on community activity can provide insights into the number of posts and comments, upvotes/downvotes, as well as community members. You also have the option to create custom reports based on various metrics and attributes.
Similarly, the Workload View provides a breakdown of your team's workload into individual tasks and projects. This can assist in prioritizing tasks and assigning work accordingly.
The Files View allows you to conveniently manage all your files (pictures, contracts, etc.) in a centralized, gallery-style display. Any files uploaded to this section of your board will appear at the top for quick access at any moment.
Hide empty groups to focus on the information that matters most. Furthermore, use the Sort menu to organize your cards by property in real-time!
You can customize your reports by adding custom metrics and attributes. For instance, adding a column that displays the name of the user who created a ticket in Zendesk would be an interesting addition! There are literally hundreds of metrics and attributes you can add to your reports - don't be afraid to experiment!
Start with Explore
Building customer relationships requires access to relevant data. With Explore, you can get this vital info instantly so you can gain a deeper insight into your customers and business.
Starting Explore can take anywhere from minutes to hours, depending on the amount of information and tickets you have. During that time, Explore prepares your Zendesk data so it is ready for use.
When creating an Explore, you have the option of selecting dimensions and measures which determine what data will be visualized in your visualization. A dimension refers to a group or bucket of data while a measure provides information about that bucket. For instance, a query showing orders per day might select one dimension (ORDERS Created Date) and one measure (ORDERS Count).
In addition to the field picker, you can also add or remove fields from your Explore using the gear menu in the data table. Note: Pivoted dimensions cannot be altered using this menu; however, columns within a dimension group can be reordered by altering their sort order.
You can also hide certain categories of data from a pivoted visualization using the legend. Hiding categories will result in grayed out values in the legend, and any updated visualization will exclude those values.